WT-520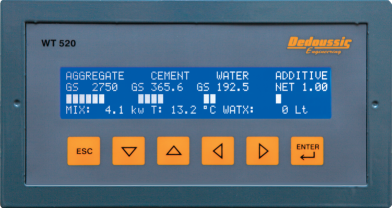 Industrial PLC designed for the needs of concrete and asphalt batching plants. Accompanied by the powerful production control software e-Batch it can be used to automate any concrete or asphalt batching plant in a standard pc running Windows 7™.
WT520 requires no programming! It only needs parameterization to suite your custom installation. Parameters can be customized via the keyboard or by the very convenient WT configuration tool.
This unique package allows the integrator to reduce engineering time to a minimum, still maintaining a standard product with superior performance in a very attractive price.
WT520 features integrated I/O on board , digital and analog processing. Ethernet connection to the PC and remote I/O, fast connection to scale modules. Up to 5 LDU scales can be connected, certified to 5000 divisions OIML III.
Technical Characteristics:
System
100 Mhz processor
8MB RAM
2/8 MB flash memory
Multitasking engine
real time clock onboard
20mS batching cycle
IO
12 digital input's
24 digital output's
1 high speed input
4 analog (4..20 mA) input's (20bit)
Communications
2 serial ports (RS422 and RS232)
4 Ethernet
CAN Bus
Transducers
Expansion
Weighing module
The Load Cell Digitizing Units are accurate, veritable A/D convertors for static and / or dynamic weighing applications. They are approved by Weights & Measures Authorities for Accuracy Class III applications with up to 10000 increments (e) according to OIML R76. Communication via serial interface RS422/RS485, directly connecting to our Plant Controllers, PLC and other devices. Applications include filling / dosing / check weighing etc. Software calibration and set up directly from WT Configuration tool. It covers features like:
mV/V calibration, high resolution
7 point linearization
synchronization with other weighing modules
mV/V calibration, high resolution
Therefore it is the ideal instrument for high precision high resolution measurements in multi channel applications.
This system is designed according to the existing regulations and carries the CE mark.
The product is supported via regular software updates and also we provide Total Teleservice of the installation, utilizing the latest internet technologies.